7 best islands in Europe, from the Arctic to the Aegean
And what to do in each.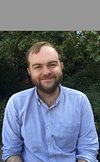 By Nicholas DeRenzo

Feb. 7, 2023 • 6 minutes read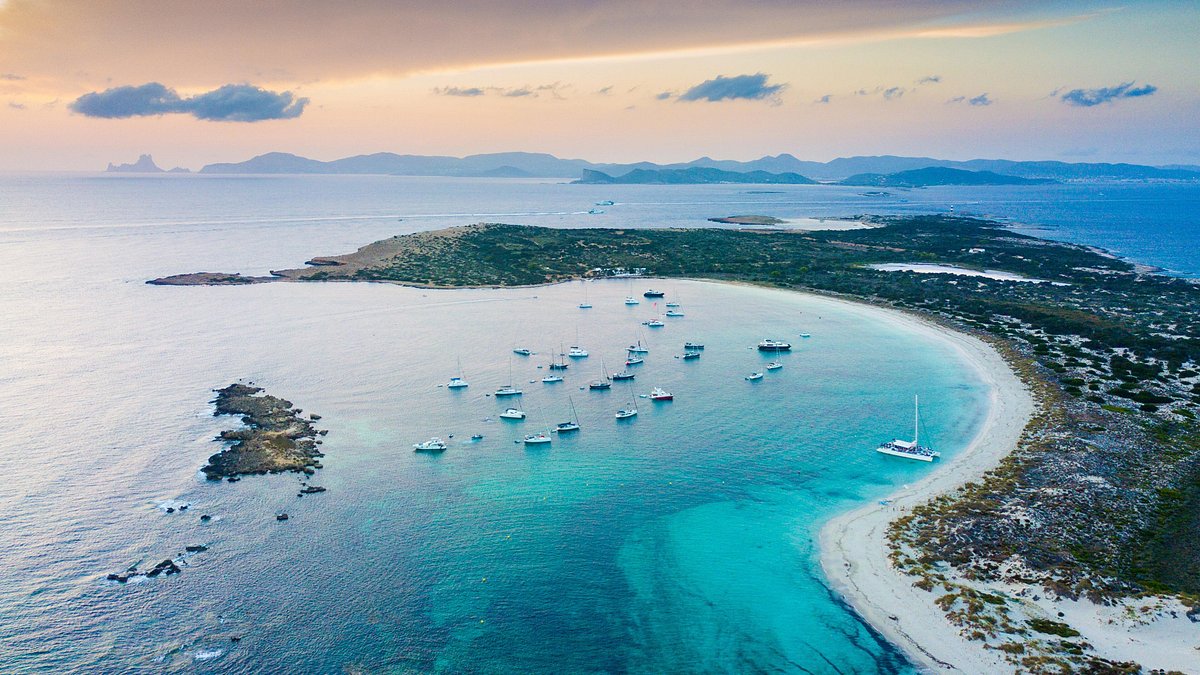 By some counts, Europe is home to hundreds of thousands of islands, ranging in scale from the country-sized (Great Britain) to the tiniest of rocky outcroppings. And the experiences you'll find on each span just as wide a spectrum, including Arctic adventure hubs, ancient Aegean hideaways, and volcanic outposts far out in the Atlantic. Here, seven of our favorites, including one of the Irish islands on which The Banshees of Inisherin was filmed and a Spanish party hot spot that's embracing wellness.
Procida, Italy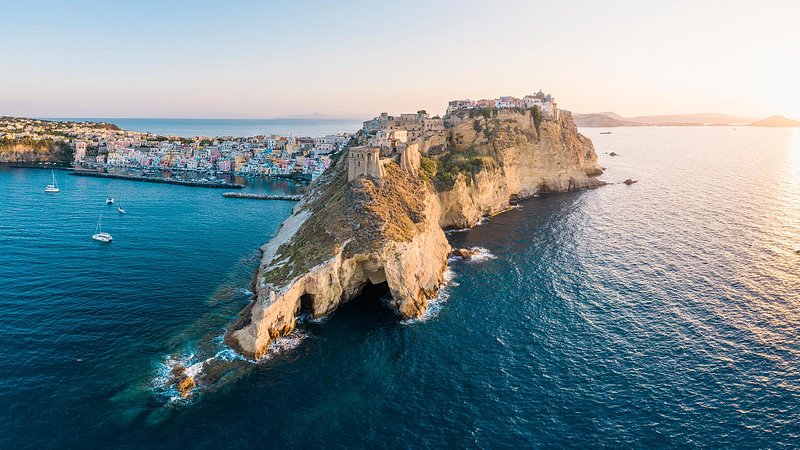 When your neighbors are attention-grabbers like Capri and Ischia, it can be hard to elbow your way into the spotlight, but Procida has done just that: Last year, this jagged spit of land in the Gulf of Naples became the first island named an Italian Capital of Culture. Procida has always loomed larger in the public imagination than its one-and-a-half square miles and tiny population (around 10,000) suggest, and over the years it's been featured in films like Cleopatra, Il Postino, and The Talented Mr. Ripley.
The island's creamy pastel houses look like rows of gelato—strawberry, pistachio, lemon—and its seaside restaurants serve the spoils of the bay; don't miss the anchovy-bolstered spaghetti alla pescatora povera (or "poor fisherman's spaghetti") or the area's signature lemon salad. From the ferry terminal, you can easily stroll to Chiaiolella beach or the Abbazia San Michele Arcangelo, a former Benedictine monastery with roots dating back to the 11th century. Many visitors pop over for a day trip from Naples, but if you spend the night, there are plenty of dreamy spots hidden among the island's nooks and crannies, from the boho-tinged San Michele Boutique Hotel in the fishing village of Marina di Corricella to the Albergo La Vigna, which is surrounded by a cliffside vineyard growing local grape varietals like Falanghina and Luvante.
Inishmore, Ireland
We're sure Martin McDonagh's black comedy The Banshees of Inisherin inspired a few travelers to start planning their dream trip to the titular island. The only problem? Inisherin doesn't exist. Instead, the film was shot between Achill Island in County Mayo and Inishmore (or Inis Mór), the largest of the Aran Islands off the coast of Galway. Accessible by ferry or plane, 16-square-mile Inishmore is a haven of Irish language and culture that's best explored on foot or rented bike. Miles of stone walls crisscross farmers' fields, and limestone cliffs and rolling hills are dotted with historic marvels, like the Bronze Age Dún Aonghasa, a 3,000-year-old fortress, and the ruins of Teampall Bhean'in, which is considered the country's smallest church at about 15-by-11 feet.
To truly get a taste of local flavor, stop into Teach Nan Phaidi, a café in a thatch-roofed cottage, or grab a pint at Joe Watty's Bar, where you can often listen to live traditional Irish music. Recharge at Kilmurvey House, a B&B set in an 18th-century stone house owned by a local family nicknamed "the Ferocious O'Flahertys." For something completely different, the beachside Aran Islands Camping & Glamping offers two types of glamping accommodations: six-person tigíns, which are like well-appointed bungalows, and four-person clocháns, named for the beehive-shaped stone huts that once housed the island's monks.
Santorini, Greece
As other Greek islands come and go as the "next big thing," Santorini has steadfastly held its position as a favorite for decades: The Cycladic stunner—with its whitewashed villages, blue-domed churches, and iconic windmills—is the image many folks see when they dream of their first Aegean getaway. If you've visited before, there are plenty of new things to love, including the Nobu Hotel Santorini, which debuted in 2022 with a spa and a stunning view out over the caldera. Varoulko Santorini, an island outpost of chef Lefteris Lazarou's Michelin-starred Athenian restaurant, also opened in 2022; the tasting menus pay homage to the sea, with dishes like octopus tarts, red mullet tartare, and kakavia, or "fisherman's soup."
And yes, it's a super romantic destination, to boot. Honeymooners and other lovebirds may be content to hang poolside, but they ought not sleep on Santorini's many adrenaline-pumping adventures: scuba diving over volcanic rock formations, sea kayaking out past the historic Akrotiri lighthouse, or even riding horses to black-sand Eros Beach. Adrenaline, after all, is said to boost attraction.
Bornholm, Denmark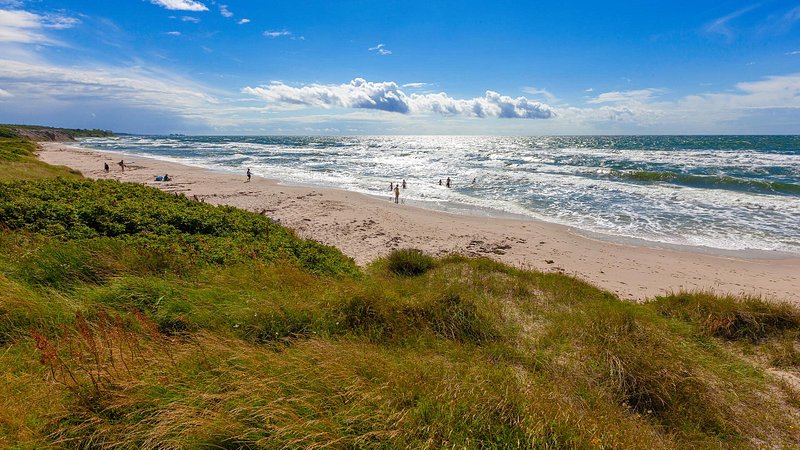 Set far into the Baltic Sea, closer to Sweden than to the rest of Denmark, Bornholm has earned a reputation as solskinsøen, or "sunshine island," thanks to its surprisingly cheer-inducing climate. So many painters have been drawn here by the dramatic rock formations and storybook fishing villages that the island even developed its own "Bornholm school" of early modernists; these days, you can view their paintings at the Bornholm Art Museum and the Oluf Høst Museet.
A popular vacation spot for Danes, the island is ringed with white-sand beaches that are perfect jumping-off points for sea kayaking and kitesurfing. When it comes to mealtime, many of those sunseekers might crave a simple sol over Gudhjem (or "sun over Gudhjem"), an open-faced rye bread sandwich topped with smoked herring, egg yolk, radish, and chives, but since 2016, they could also opt for something a bit fancier: That's the year Kadeau earned the island's first Michelin star with its locally inspired menu that's all about foraging, pickling, and fermenting. Accommodations on the island also run the gamut, from the crisp minimalism of Hotel Nordlandet to the family-friendly Hotel Skolvy, which is home to Denmark's oldest mini-golf course.
Spitsbergen, Norway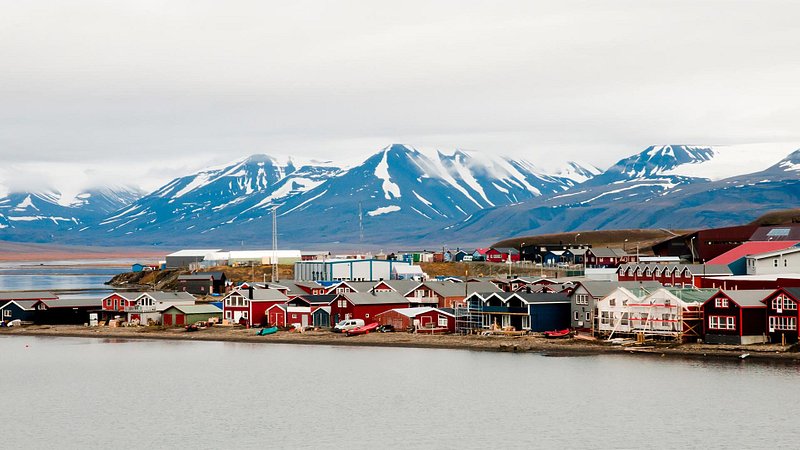 They don't come much wilder than Spitsbergen, the largest island in Norway's edge-of-the-world Svalbard archipelago, where sheer mountains rise from the tundra, polar bears roam the streets, and the aurora borealis makes frequent appearances during the two-and-a-half months of perpetual winter darkness. The island chain is more accessible than ever thanks to a new itinerary from Hurtigruten—Norway's 130-year-old ferry, cargo, and cruise line—which sails from Bergen up to Longyearbyen, the northernmost settlement in the world with a population of more than 1,000.
Despite its remoteness, Spitsbergen is not without its creature comforts, including the sleek Svalbard Museum and the Svalbard Brewery, where former coal miner and pilot Robert Johansen brews beers with glacier water. The island boasts a surprisingly robust restaurant scene, and at standouts like Gruvelageret, Restaurant Polfareren, and Huset, you can sample your way through the full range of Arctic proteins, including whale, reindeer, seal, and ptarmigan (a type of game bird in the grouse subfamily). And when it's time to hibernate—for a night at least—Basecamp Spitsbergen offers a rustic-chic take on a trapper's hut, decorated with seal skins and driftwood.
Ibiza, Spain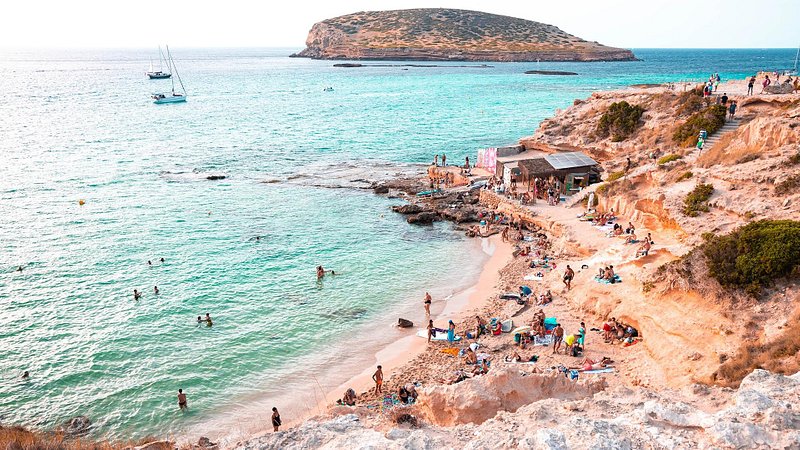 These days, the same rocky coves and pine-covered hills that attracted hippies back in the '60s are cropping up with wellness offerings that are transforming Ibiza into a Mediterranean Malibu of sorts. The boho-luxe Six Senses Ibiza opened on the island's northern tip in 2021, complete with a garden that sources items like lavender and aloe vera for the spa's beauty products. That farm-fresh vibe extends to a trio of Michelin-starred restaurants—La Gaia, Es Tragón, and Etxeko Ibiza—and now more than ever it's possible to wake up in Ibiza feeling rejuvenated rather than hungover, thanks to a slew of yoga and Pilates retreats, vegan cafés, and hiking trails. Last year, the Balearics passed sustainability laws to ensure that these islands remain pristine, and if you've ever swum in the crystalline waters of its many hidden beaches, it's an initiative we're sure you'll wholeheartedly endorse.
São Miguel, Portugal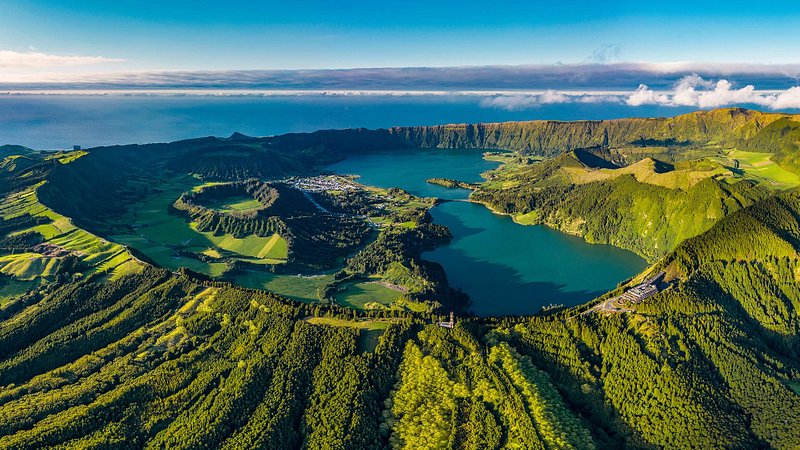 The island shows off perhaps its tropical side at the Santa Barbara Eco-Beach Resort, where surf lessons might be followed by a contemporary coastal meal of BBQ Azorean squid or poached triggerfish. No matter where you explore among the island's nearly 290 square miles, you'll almost certainly be arriving through the capital city of Ponta Delgada. Don't leave without meandering among its narrow cobblestone streets, which are lined with buildings that show off the island's trademark architectural style of whitewashed walls trimmed in black basalt. Sure, the city may look trapped in time, but it's also home to a handful of excellent art galleries and forward-thinking restaurants like Michel and Õtaka. Speaking of which, Õtaka's Japanese Peruvian fusion fare will dazzle your palate with hits like black cod, ceviche, and tuna tataki. Saúde to seafood!