8 national parks that are spectacular in winter
Wildlife, scenery, and adventures made for snowy splendor.

By Kathryn Romeyn

Feb. 15, 2023 • 5 minutes read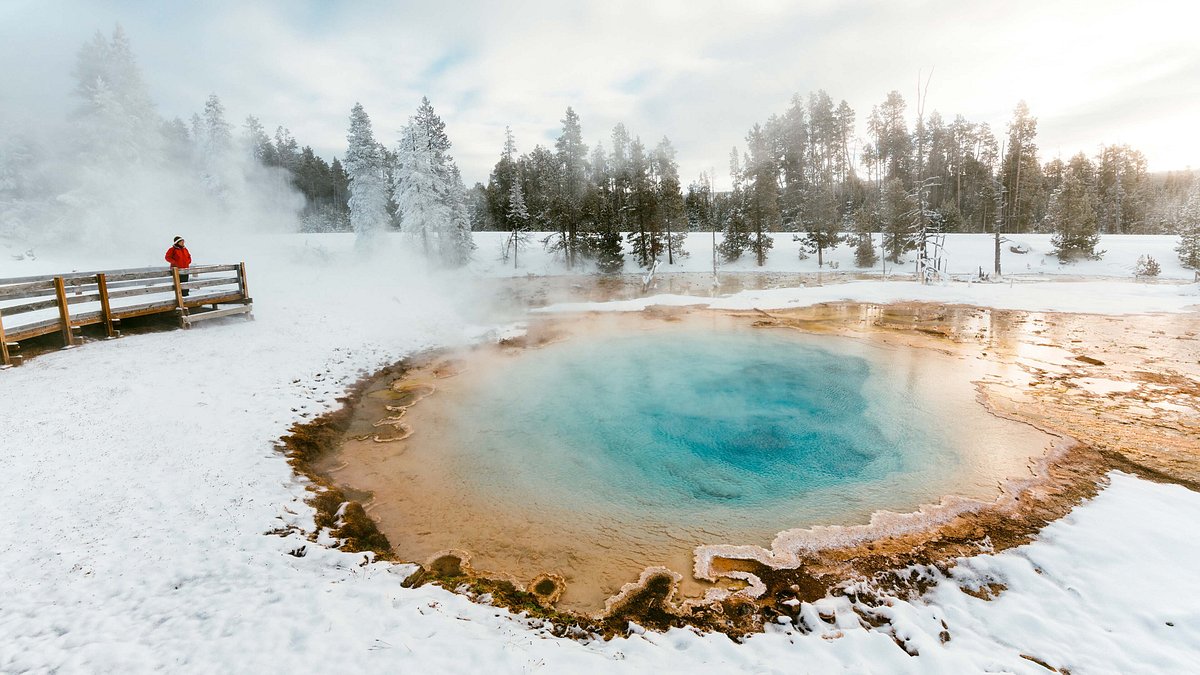 While summer and fall typically bring the crowds to America's national parks, the coldest months can prove incredibly appealing, too. For one, the crowd size is usually remarkably low. The relative quiet is a perfect fit for a beautifully calm time of year that can offer a new perspective on your surroundings—picture herds of elk trekking through snow, the vast Grand Canyon blanketed in white. Ahead discover eight parks as enchanting in winter as they are in the warmer months. (Just don't forget to pack your snowshoes.)
Grand Teton National Park
Wyoming's peak-filled Grand Teton park, immortalized in one of Ansel Adams' most famous photographs, is quite the playground come winter, especially for cross-country skiers and snowshoers. Visitors can book guided snowshoeing expeditions led by park rangers through March that teach you about winter ecology while getting your heart rate up. Jackson Hole Eco Tour Wildlife Adventures offers sunrise and sunset tours through the park in heated 4x4 vehicles—along the way, you can spot moose, bison, bighorn sheep, wolves, and other wildlife. For easy access to all the excitement, stay in Jackson, WY, at the stone-clad The Cloudveil, Autograph Collection, which opened in 2021 and features an outdoors-focused concierge team, the Pathfinders, to help plan excursions. There's a heated outdoor pool, rooftop terrace for stargazing, and plenty of local artwork and photography of the surrounding landscapes, in case you didn't get enough in the park.
Yosemite National Park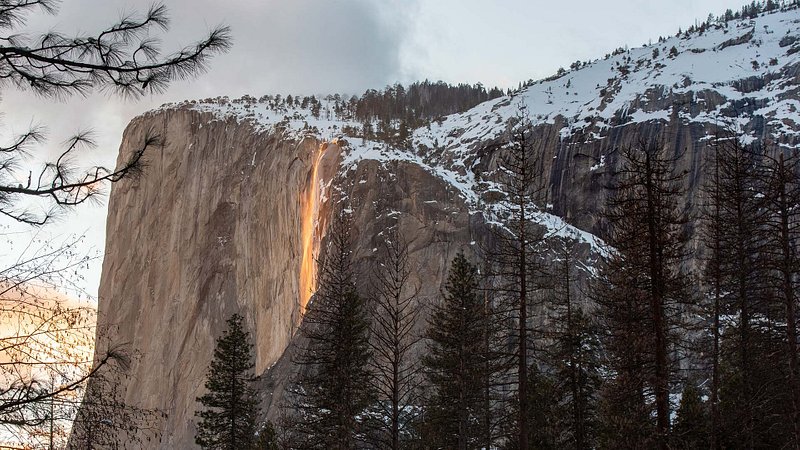 California isn't the first state that comes to mind when you think of the word "snow," but there is plenty of it in Yosemite. Though warmer months bring hordes of visitors to the park's ancient sequoias and world-class rock climbing at El Capitan and Half Dome, far fewer visitors journey out in the postcard-perfect off-season for virtually every winter sport you can imagine. There's skiing and snowboarding at Badger Pass, one of few lifts located in a national park—plus, tubing, ice skating, and snowshoe hiking with the Yosemite Mountaineering School and Guide Service. Twenty minutes away, you can unwind at Chateau du Sureau, where each of the 10 cozy rooms includes a fireplace. Area wineries are open year-round, and stargazing is especially awe-inspiring in the expansive winter sky above the nine-acre castle-like resort.
Acadia National Park
Woodland forests meet rocky beaches at Acadia National Park on Maine's Atlantic Coast, making for unforgettable winter vistas. Snowy scenic drives, ice fishing, skating, and cross-country skiing are popular pursuits across the sprawling 47,000 acre park dotted with eye-popping ice formations. Bundle up and strap on skis or snowshoes (or, better yet, hop on a snowmobile) to trek three and a half miles up to the Cadillac Mountain summit for the first sunrise in the U.S. through early March. Then, gear up for an exhilarating day: Acadia Mountain Guides Climbing School offers beginner-level classes where you can learn the essentials of waterfall climbing. Winter camping is not allowed, so book a restored 1940s-style room or seaside cabin at Bar Harbor's Salt Cottages (the closest resort to the park), and choose from plenty of ways to kick back, including hot tubs, fire pits with s'mores fixings, or board games.
Yellowstone National Park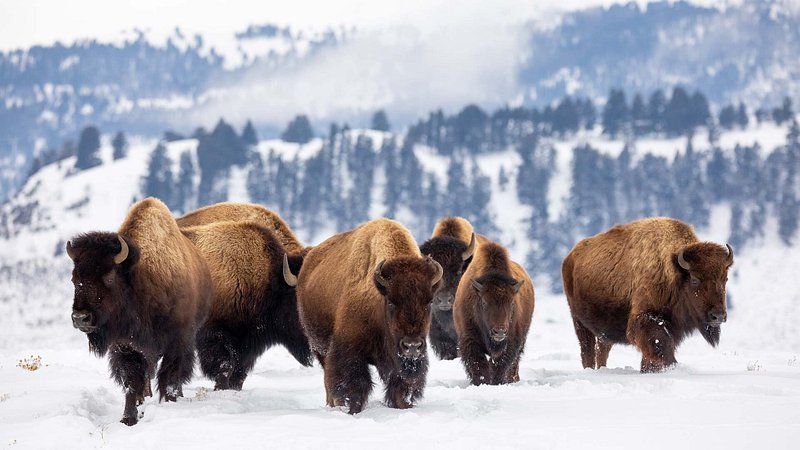 Is there any national park more talked about than Yellowstone these days? Besides the eponymous hit TV series, the park celebrated 150 years in May 2022. It remains one of the country's most divine stretches of wilderness, extending across Wyoming, Montana, and Idaho, and covering almost 3,500 square miles of pristine canyons, forests, hot springs, alpine rivers, and geysers, including the country's most famous, Old Faithful. In winter, when the iconic spring's almost-boiling water sprays, it hits cold air and creates "geyser rain" of tiny crystals. Wolves, bears, and bison roam and can be spotted easily against a backdrop of white—their tracks are easier to follow in snow, too. The park is typically accessed via guided snowcoach and guided snowshoe and cross-country ski tours in winter. Once inside, you can enjoy morning wildlife excursions, winter photo safaris, and an evening program called Stream, Stars and Winter Soundscapes through early March (hot chocolate included). Once you're tired out, bed down at Old Faithful Snow Lodge & Cabins, the sole in-park accommodation this winter.
Rocky Mountain National Park
Dramatic, majestic, and rugged are all fitting descriptors for this 415-square-mile stretch which spans the Continental Divide. There are areas of the Rocky Mountain National Park that cars can't reach in winter, but you can still experience the stunning scenery via snowshoe, even if you're a beginner (Kirks Flyshop & Mountain Adventures offers tours based on skill level). For sporty types, Kent Mountain Adventure Center offers classes in splitboarding, which combines elements of snowboarding and cross-country skiing for remote backcountry escapades. Learn to ice climb at Jewel Lake with Colorado Mountain School, sled at Hidden Valley, or simply stroll (and elk-spot) along the Colorado River. Nearby accommodations in Estes Park include the YMCA of the Rockies, perfect for families with miles of trails onsite, as well as activities such as ice skating and sledding. For those traveling without kids, try the Della Terra Mountain Chateau, which features 14 suites with private hot tubs and unspoiled views, plus a spa.
Grand Canyon National Park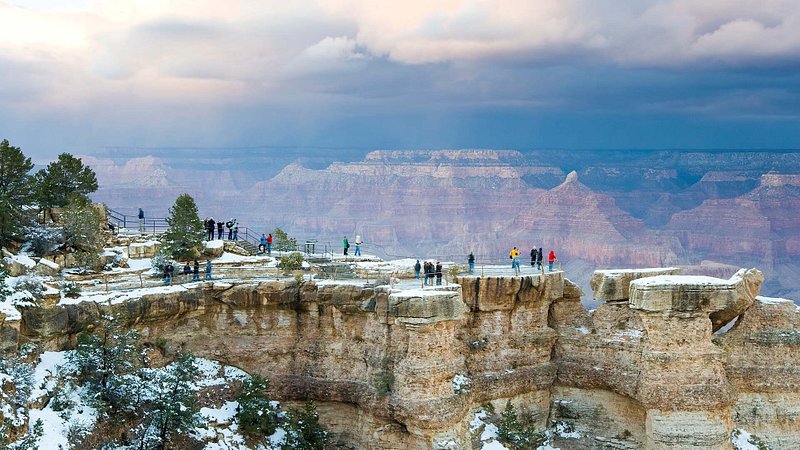 We're used to seeing photos of the Grand Canyon looking resplendent in myriad reds and browns, but it's no less extraordinary when shrouded in snow. Winter sunrises and sunsets have a phenomenal effect on the canyon's curves and craters, which turn shades of pink, purple, and orange. After dark, the Milky Way is visible to the naked eye thanks to superior visibility and clear winter skies. The canyon's South Rim is the starting point for all types of winter exploration: a scenic drive is an ideal way to take in the sights, as is a trip on the Grand Canyon Railway, which runs daily and features luxury dome cars as well as an observation car. In the winter, most accommodations come with significant savings. Book a room with a deep sense of place such as El Tovar Hotel: the oldest hotel in the park, it's been open since 1905 and maintained its grand stone and timber dining room. Another resting place with remarkable original detail and history is Bright Angel Lodge & Cabins, a Registered National Historic Landmark designed by pioneering early 20th century architect Mary E.J. Colter.
National Elk Refuge
Though not technically a national park, the National Elk Refuge (located a few minutes' drive from Grand Teton National Park) is a storied landmark nonetheless. Founded in 1912 as a winter sanctuary for some 5,000 to 7,500 elk, the refuge is a protected habitat for one of the area's most emblematic animals. The most exhilarating way to experience the 25,000-acre reserve is via horse-drawn sleigh: you can book an hour long ride with Double H Bar National Elk Refuge Sleigh Rides (keep an eye out for bison, bighorn sheep, foxes, bald eagles and pronghorn, too). The aforementioned historic town of Jackson, WY, with its frontier-style architecture and much-photographed Antler Arch, is a short drive from the refuge, with the family-owned Hotel Jackson in the center of it all. The 55-room boutique property also has plenty of Jackson-specific activities on offer, from Nordic skiing and astronomer-led stargazing trips in Grand Teton National Park.
Bryce Canyon National Park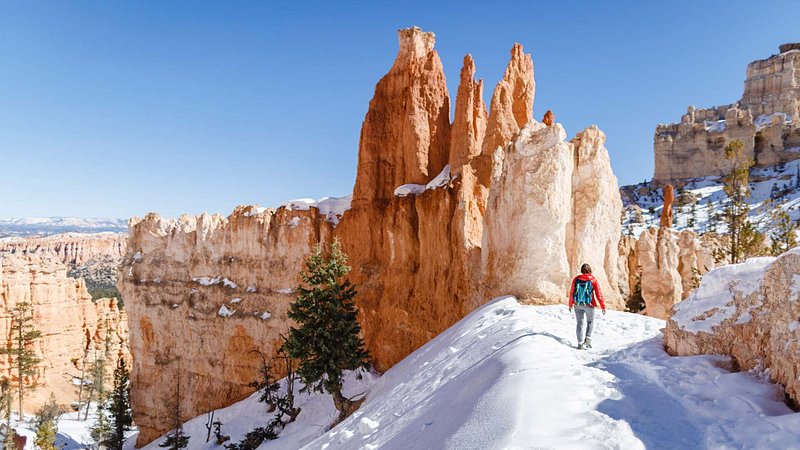 If you want spectacular, try winter at Bryce Canyon National Park, where its towering, otherworldly hoodoos—intricate rock formations shaped over thousands of years by water and ice—look even cooler when frosted with snow. Visitors can cross-country ski or snowshoe among the formations, with guided snowshoe hikes (occasionally under a full moon, with some winter astronomy added to the mix) and daily hoodoo geology talks available through the park service free of charge. For breathtaking stargazing, bundle up and head to Sunset Point, one of several spots in the park recommended by the International Dark Sky Association for astronomy-lovers. The closest hotel to Bryce Canyon is Best Western Plus Ruby's Inn: open since 1916, it has an RV park, restaurant, and other convenient amenities onsite. For an ultra-luxe option, you can make a two-hour drive to Amangiri's Camp Sarika, where each of the 10 plush, tented suites comes with a private plunge pool and fire pit.