Your guide to Carnival across the Caribbean
As Trinidad's world-famous fete kicks off, a look at other thrilling Carnivals around the Caribbean.
By Mariette Williams

Feb. 22, 2023 • 4 minutes read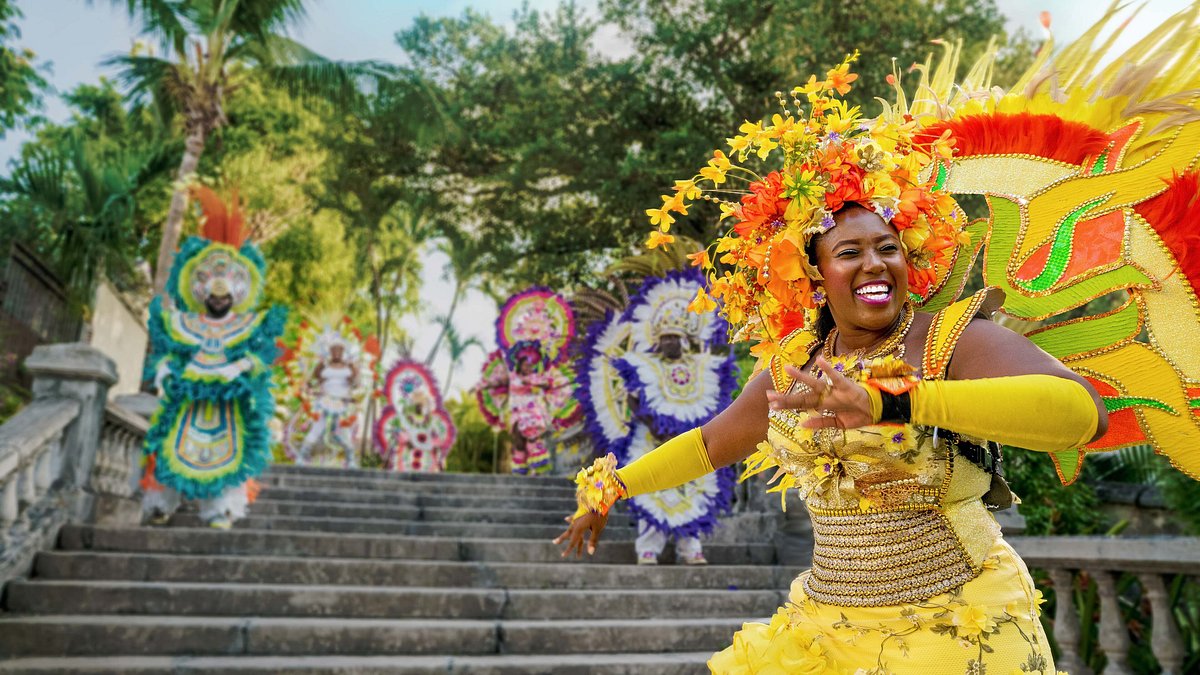 One way to get to know the personality of a destination? Find out how it parties. And there's no party quite like Carnival in the Caribbean. Each island has its own twist on the annual celebrations, which reflect centuries-old traditions adapted by enslaved populations to mark the period before Catholic Lent. In Trinidad—credited as the birthplace of Carnival—enslaved Africans were prohibited from participating in Lenten festivities and created their own celebration. After emancipation, Carnival was widely celebrated on the island as an expression of freedom and a way to honor ancestors.
Today, Carnival celebrations in the Caribbean take place throughout the year, and the common themes that runs throughout each island's unique festivities are pulsating music, exuberant dancing, abundance food and drinks, and playing mas (masquerade) in elaborate costumes. Ahead, seven Carnivals well worth a visit in 2023.
Trinidad Carnival
Through February 23, 2023
Considered the "mother" of Caribbean Carnivals, Trinidad's Carnival marks the beginning of Lent and includes some of the biggest street parades in the Caribbean. The bulk of the festivities occur in Trinidad's capital, Port of Spain, and the week leading up to J'ouvert, the official start of Carnival, is full of themed parties, steel band concerts, and spirited competitions.
J'ouvert, which means "day opens" or "daybreak," marks the ceremonial opening of Carnival celebrations and occurs on the Monday before Ash Wednesday (on February 20, in 2023). J'ouvert revelers rise in the early hours to cover themselves in mud, paint, or oil, and don pitchforks and horns to welcome the day and the upcoming Carnival celebrations. J'ouvert is followed by "Pretty Mas," the kaleidoscopic street parade with bands of masqueraders partying to soca and calypso music. In between merrymaking, visitors can take an express ferry over to Tobago, Trinidad's sister island, and unwind on the gorgeous beaches at Pigeon's Point Beach or Englishman's Bay.
Jamaica Carnival
April 12–18, 2023
With its earliest iterations kicking off in the '90s, Jamaica's Carnival hasn't taken long to make its mark with electrifying concerts and a high-energy street parade. Beginning after Easter Sunday, Carnival celebrations are held in Montego Bay, Ochos Rios, and Kingston.
The National Carnival Road March in Kingston is the star of the show: thousands of parade-goers take to the streets donned in bright feathered costumes, dancing in the wake of brightly-decorated trucks pumping out calypso, dancehall, and reggae music.
CayMas, Grand Cayman
June 27–July 3, 2023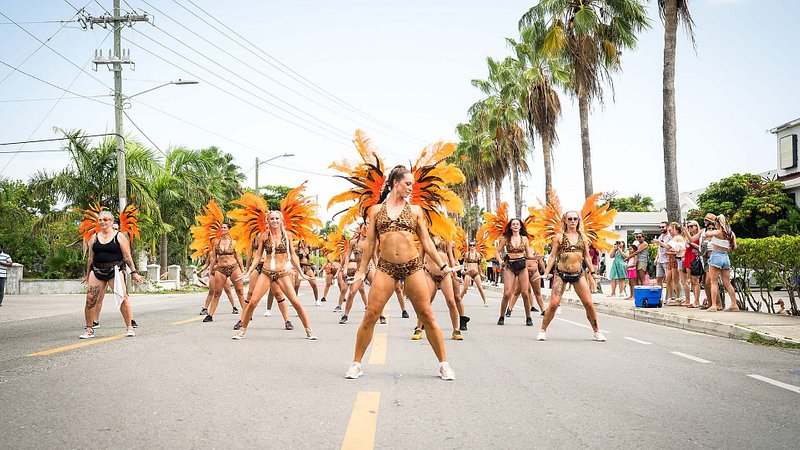 A trio of three islands, none larger than 75 square miles, the Cayman Islands are among the smaller destinations in the Caribbean, but don't be fooled: its Carnival celebration, CayMas, is still larger than life. Over the span of a week between June and July, revelers take part in block parties, dance into the night to DJ beats on the beach, and take in competitions crowning the best in everything from soca music to elaborate costumes.
The festivities culminate in the CayMas street parade, which winds through the streets of George Town to end up at the stunning Seven Mile Beach, where food vendors await hungry paraders.
St. Lucia Carnival
July 12–19, 2023
The island best known for its soaring twin Piton peaks is also host to one of the biggest Caribbean Carnivals. Carnival in St. Lucia dates back to 1947, when a group of revelers paraded through the streets of Castries, drumming on bottles. The celebration picked up popularity, and in 1948 costumes and musical bands were integrated into the parade.
Today's Carnival features a number of hotly anticipated music competitions, including the annual crowning of "monarchs" in soca music battles, as well as a Carnival Queen Pageant that dates back to 1950, a Junior Carnival for kids, and a twilight J'ouvert before the parade of bands. After taking in the celebrations in Castries, venture about 12 miles south to Sulphur Springs, where you can kick back in a geothermal mud bath (part of a sprawling volcanic valley) before a stop at Big Yard to refuel with a homestyle meal.
SpiceMas, Grenada
August 1–15, 2023
Grenada is nicknamed the Spice Isle thanks to its abundance of nutmeg, cinnamon, ginger, and other aromatics, and that claim to fame is also the root of the name for Grenada's Carnival, SpiceMas. Every August, the festival is celebrated in the island's capital, St. George, with brilliant parades, thumping live music, and a children's carnival.
During the SpiceMas J'ouvert event, paraders dress as "jab jabs" (or devilish characters) by covering themselves in oil and chains and painting their lips red in mockery of slave owners and as a display of freedom. The last day of festivities includes the Last Lap, a final parade celebration where carnival-goers give it their all. For an afterparty, grab a cold drink at the Dodgy Dock.
Crop Over, Barbados
August 7–14, 2023
As the name implies, Barbados' Crop Over festival, one of the oldest Carnivals in the Caribbean, celebrates the end of the crop season. At one time, Barbados was the world's largest producer of sugarcane, and the end of the season meant a respite from back-breaking labor.
The activities span roughly a month, though the peak of the action takes place over a week in August in capital city Bridgetown. Don't miss Pic-O-De-Crop, a live calypso artist competition that lasts late into the night; the Bridgetown Market, a three-day mini-festival with live bands, food stalls, and artisan wares for sale; or the Grand Kadooment, a large-scale parade that starts at the National Stadium and caps off the celebrations. Fuel up with the tantalizing local seafood— Bridgetown standouts include Seafood Shack and Cuzz's Fish Stand.
Junkanoo, Bahamas
December 27, 2023 and January 2, 2024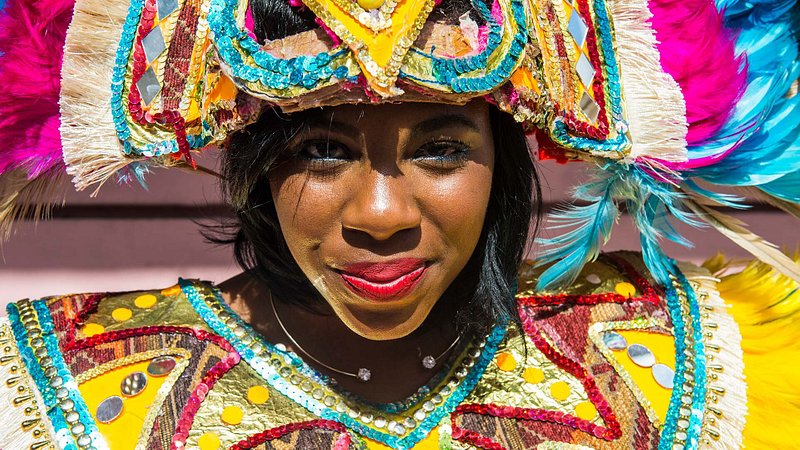 Consider spending the winter holiday season in Nassau at Junkanoo. The festival is thought to be named after John Canoe, a West African king who fought for the right to preserve celebratory traditions and led successful revolts while enslaved in the West Indies. When enslaved Africans were given two days off around Christmas, they named their celebration after the folk hero.
Today, Junkanoo's hub is in downtown Nassau, with parades kicking off at midnight. You'll see extravagant floats, drummers, horn players, and dancers performing during all-night celebrations. The festival is also known for fierce competitions in which bands compete for top honors based on their costumes, themes, and dances. In between fetes, you can learn more about the history of Junkanoo at the Educulture Junkanoo Museum and Resource Center or the Junkanoo World Museum & Arts Center.