Overview
About
Passengers: 2,394
  |   Crew: 1,072
Passengers to crew: 2.23:1
Passengers to space: 39:1
Launched: 2007   
Deck 4 layout
Cabins
Oceanview Porthole Window (OG)
Mid-Ship Oceanview Porthole Window (OF)
Cabins
Balcony
Cabin size: 167 - 167 sq. ft.
Connected rooms: 152
Accessible rooms: 8
Maximum passengers: 4
Number of cabins: 716
Activities & entertainment
Aerobics
Arts & Crafts classes
Basketball/Tennis Courts
Behind the Scenes Tour*
Body Waves Fitness Center
Bowling*
Bowling
Bowling Alley*
Bridge Viewing Room
Chess
Cinema
Climbing Wall
Dance Classes
Deck Games
Deck Parties
Fitness Classes*
Game Shows
Gaming Lessons*
Golf
Golf
Hair Salon*
Hot Tubs (5)
Hydrotherapy Pool*
Internet Café*
Jogging Track
Karaoke
Late Night Music and Dancing
Live Nightly Music
Pools (3)
Poolside Games
Relaxation Female Thermal Suite*
Relaxation Male Thermal Suite*
Shuffleboard Court
South Pacific Spa and Beauty Salon*
Sports Court
Sports Games Televised
The Library
Trivia
Video Arcade*
Wine Tasting*
Aqua Kids' Club
Kids' PC World Library
Bliss Ultra Lounge Night Club
Comedy Performances
Onboard Movie Screenings
Pearl Club Casino*
Spinnaker Lounge
Stardust Theater
Stardust Theater
Indigo Main Dining Room - American
Summer Palace Main Dining Room - American
Lotus Garden Asian Restaurant - Asian
Maltings Beer & Whiskey Bar - Beer & Whiskey*
The Grill - Burgers
Garden Café - Casual
Garden Café - Casual
Magnum's Champagne & Wine Bar - Champagne*
Corona Cigar Club - Cigar Bar*
Star Bar - Clubby Bar*
Java Café - Coffee Bar*
Le Bistro French Restaurant - French*
Bali Hai Bar & Grill - Grill
Ice Cream Bar - Ice Cream
La Cucina Italian Restaurant - italian*
Teppanyaki - Japanese*
Sake Bar - Japanese Sake*
Kids' Café - Kids Fare
Shakers Martini & Cocktail Bar - Martini Bar*
Topsiders Bar - Pool Bar*
Cagney's Steakhouse - Steakhouse*
Cagney's Steakhouse - Steakhouse*
Sushi Bar - Sushi*
Mambos Tapas Latin Restaurant - Tapas*
* May require additional fees
Boca Raton, Florida
1,069

contributions
227

helpful votes
Ship and cruise were good. Guest service on board to simply sell future. cruise. Drinks, fee restaurants and fee services hawked like a carnival side show non stop. Buffet foodtotally lackluster. Land based passenger service department unhelpful and nasty and we are Platinim
cruisers with more than 20 NCL cruises.
…
Maui, Hawaii
126

contributions
31

helpful votes
Took my two adult daughters and 81 year old mother on a cruise departing early September 2019. The ship departed from Barcelona OMG loved Barcelona spent three days prior to cruise there. Arrived at terminal was not as organized as other cruises I have been on. Got onto the
boat was pleased to see our room was very spacious and had a very large window which was a nice surprise. Our experience was about to take a turn for the worse on the boat. We came to find that the staff were for the most part very rude (not room Stewart and our one waitress in the main dining room) I was shocked at the quality and selection of food. Always cold and buffet was so small with the same food everyday cold hot dogs cold frozen pizza iceberg lettuce salad. The breakfast bacon was so hard it was what we referred to as tooth breaking bad. It was shards of bacon cold eggs etc. We tried to stay with the small pastry basket with coffee. Main restaurant food was no better again cold and some nights down right inedible. The one night we had a good meal we paid 200.00 US dollars to go to a pay restaurant which was really good. Service on the boat was not exceptional. The standard you would want if you are going to pay the tip they automatically add to your final bill in the end (you can adjust or eliminate completely) if you are not happy with overall service. I had pre paid tips when I booked my cruise but they still added 15.00 per person per day per cabin (60.00) for our room per day totally 600.00US which i had removed. I would have decided to leave more but you earn tips with good service you don't just get tips for nothing in my opinion (only my opinion). Tender boats had such long waits to get on and with shorter port times in some destinations it made for a very rushed day. Other cruises I have been on were not disorganized this way. Overall I would say I really liked the ports we went to and this is the reason I picked this cruise but I would say Norwegian would not be a cruise line I personally would pick again.
…
Amy V wrote a review Mar. 2020
Des Moines, Iowa
27

contributions
5

helpful votes
I was so worried after reading all the bad reviews! But this was a really nice vacation! I give 4 stars instead of 5 because we were bored on our sea days, but the ship did have things to do...they just weren't our kind of thing. Food: we did the buffet for every breakfast and
it was just fine. We are a little snobby when it comes to food- we did the outdoor buffet because we wanted every minute outside we could get, and the only thing we really didn't like was the drinks. My husband loves unsweetened iced tea and there wasn't any that we found on board. However, there was hot tea, so he made his own ice tea with the black tea that was offered at breakfast. The coffee was awful, but we had the upgraded drink package that included coffee (which we recommend if you're drinkers) so we got coffee each day at the atrium bar and that was delicious! We did not dine at any of the fee dining, but the other sit down restaurants were fine. We preferred the summer palace to indigo because of the ambiance, but the food is the same. I highly recommend doing the upgraded beverage package if you enjoy nice drinks. Once the servers/bartenders know you have the "good" package, they will encourage you to try all kinds of drinks. My husband spend most of the trip drinking $30+ glasses of scotch and we asked for (Included) bottled water at almost every drink stop. You also get select bottles of wine at dinner. Port days were fun (we had 2) but the day was so short. The first day we snorkeled then almost immediately had to head back to the ship. 2nd day we did a lovely beach day through Viator and still felt semi rushed but not as much. As mentioned, we felt sea day's to be boring. We wandered, found the pool to be over crowded, played some shuffle board, drank a little, watched karaoke at night, ate too much, then went back to our little room to watch movies in bed. Overall we found the ship to be extremely clean, the staff to be friendly and accommodating, the crowds to be ok except during embarkation, the food to be mediocre, the sea days to be boring, but the port days to be fun. This was our first cruise, but we will not be jumping on another one in the near future, we'll try other vacation destinations first. This was a good experience but not mind blowing. No real bad feelings, just not blown away either.
…
Ron S wrote a review Mar. 2020
We were supposed to sail on the NCL Pearl beginning Sunday March 22. My wife and I were looking forward to this cruise, then the coronavirus struck. While we waited as long as we felt we could to see if NCL or the government would cancel all cruises, because I'm self employed
and couldn't risk being trapped on a cruise ship for 14 days, we cancelled on March 10 only to find out that the cancellation we were waiting for happened 2 days later with customers getting a refund while we were only given a credit towards a future cruise. Since then we have been trying to get a refund to no avail. NCL has no empathy in regard to this crisis and what it could do to their customers. They refuse to adjust their policy to be more customer focused. They will likely get a handout from the government, I'm not sure I'll have a job or be able to use the credit in the time frame they allow do to financial uncertainty. Very frustrating!
…
Guelph, Canada
18

contributions
36

helpful votes
I am usually a Celebrity customer but decided to try Norwegian. Very pleased with the result. It was the last cruise before COVID-19 shut down cruising, and they were meticulous about sanitation. Food was top notch, service was excellent. Jazz musicians wee lovely and talented
in the bars (Andre and gang); did not go into the theater because of large groups of people. Because we chose the smaller boat, there was not a choice of pools, which meant we were stuck to one very noisy party pool (for the March break kids). Even that calmed down as the week went on. Special thanks to Red and Antonella who took care of our every need in the Winter Palace restaurant. Washy washy happy happy! We will be back. Very good value.
…
Upcoming itineraries
Itinerary
5 Night Cruise to the Caribbean
Departure date
Friday, 20-12-11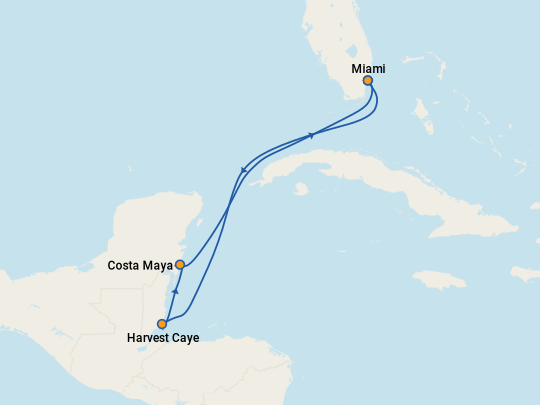 Prices are cruise only, per person, double occupancy, and are provided by our partners. Taxes, fees and port expenses are not included. Fuel supplements may apply. Availability of prices is subject to the supplier's pricing availability.