---
Holiday Rental House
Leave your cares behind and enjoy the beautiful Catskill mountains as you relax in your "Stream side Sanctuary," a newly renovated 2 bedroom house just outside of Phoenicia, located on the lovely Stony Clove Stream. The recently renovated house has a beautiful, fully equipped kitchen; spacious dining room that looks out on trees and flowers from a bow window; living room with gas fireplace and large screen TV; modern bathroom; two bedrooms, each with a queen size bed, one with a TV. Air conditioning and heat throughout make it a cozy, comfortable retreat year round! The house has cable TV and wifi. A car is not necessary as the house is located just short of a mile form the bus station in Phoenicia. You can walk to town, eat in one of several restaurants, visit the quaint shops, go fly f...
House Rules
Pets not allowed
Kid friendly
No smoking
---
Veronica R
Hosting since February 2014
Response Time: Within a few hours
Interaction with guests: My husband and I have a home on the property. If we are not traveling, we like to greet our guests, give a quick tour of the house, and answer any questions. Whether we are home or away we can always be reached but, we give our guests as much privacy as possible so that they can comfortably enjoy all of the property.
---

Sanctuary is an understatement
This was one of the best trips my friends and I have ever been on. The house was more than big enough to house the five of us, and Veronica was SUPER accommodating even before we arrived! She gave us a fantastic bakery to visit which we again visited on the day we left, and made sure that we knew we could ask her if we had any questions about anything! We also tried the fire pit which was gorgeous and easy to set up. AND THE STREAM! This was the highlight of our trip. We spent the entire day hanging around the super spacious backyard and sitting in the stream. It was an amazing experience to get away from our normal city life and just sit in nature for the whole day. I would strongly recommend this rental to anyone who is trying to get away from life and just enjoy nature for a while. I would definitely love to come back!
---

Rosa B
Flushing, NY
6

contributions
This place is beyond beautiful and quite. The house has everything you need, from the kitchen tools to the bathroom fully stocked. Perfect for relaxing from the city craziness, the stream by the mountain and the fire pit will give a the relaxation you need. Veronica, Jon and Jake are great hosts while giving you the privacy of enjoy yourself in the house and the backyard. We can't wait to come back. Thank you again. Rosa and Jorge

Thank you, Rosa & Jorge, We're so glad that you enjoyed your stay! It was a pleasure meeting you and your family. We are looking forward to your next visit. All the best, Veronica & Jon (& Jake-woof!)
---

Renovated spotless house – highly recommended!
A truly outstanding rental in every way. Newly renovated and super clean. Equipped so very thoughtfully to meet every need, from laundry soap to full kitchen gear to toys to comfortable beds. Great location with back lawn right on a stream with forested hills beyond. We loved the Adirondack chairs, large table and deck, recliners, and quiet. The owners are very nice, next door and quick to respond to questions while fully respecting privacy. In fact we would have enjoyed more time with Veronica and John. The house is close to many Catskills hiking trails, waterfalls, Hunter Mountain, and the fun restaurants of Woodstock.

Dear Sara & Chip, It was such a pleasure meeting you both! We are so happy that you enjoyed your stay. We look forward to your next visit & would enjoy spending more time chatting with you as well. Thanks again! Best regards, Veronica& Jon
---

NickMichelle
Yonkers, NY
2

contributions
We have visited 2 years in a row now for the first week in November, and we plan for many more. The house is very cozy, and the outdoor firepit on the river is awesome. Hospitality is great as well. We took a day trip to Woodstock (20-30 minute drive) and the town had a bunch of nice places - restaurants, wine shop, coffee shop, antique shops, bookstore, etc.....We highly recommend booking a stay 👍🏼👍🏼

We are delighted that you are making our property a fall tradition!!!! It was great seeing both of you& we're so glad that you enjoyed yourselves. Looking forward to seeing you next fall if not before. Sincerely, Veronica & Jon
---

NikiAnne238
Thiells, NY
1

contribution
The perfect, romantic weekend getaway!
Absolutely GORGEOUS setting... so relaxing and tranquil. Adorable, very updated, super clean, and cozy little house with gorgeous views of the mountains, BEAUTIFULLY decorated backyard, fire-pit, and mesmerizing stream 🙌🏼😍... Owners, Veronica and Jon, are SO welcoming and are there right away if you need something... yet, give COMPLETE privacy! They are absolutely amazing hosts! Great restaurants (in walking distance or just a minute drive away)! Stunning scenery and mountain-views (great for walks or driving around/sight-seeing). This was the ideal weekend getaway for my husband and I for our 2nd wedding anniversary! Veronica and Jon were even sweet enough to leave a bottle of champagne for us in the fridge to celebrate and enjoy! LOVE, LOVE, LOVE and sooo look forward to coming back! ♥️

We were so delighted that you picked our home for your anniversary celebration! It was a pleasure meeting you both and we look forward to your next visit! Sincerely, Veronica & Jon
---
KE C
Fairfield, CT
25

contributions
Sanctuary by the Stream is in fact as described and could not have been more perfect for small families or two couples. The owners have lovingly created & maintained a modern oasis a short distance from the center of town in a semi-private & secure location, on a lovely landscaped property that backs up to a rushing stream. Veronica and her husband were helpful and generously thoughtful and great neighbors. We hope to return in the fall or winter to enjoy the solitude of the Catskills.

Thank you, Karen for choosing our property as a destination for yourself & your visitors! We enjoyed meeting all of you hope that you will come back soon. Best regards, Veronica & Jon
---

Robert M
New York City, NY
5

contributions
We had a great time at Sanctuary by the Stream. The town of Phoenicia is a charming little hamlet with just the right mix of convenience and scenery. This home is clean, comfortable, and has a beautiful fire bit set right in front of a flowing stream. It was wonderful to sit by the fire and listen to the water rush by, while taking in the hills in the background. Our hosts were friendly and gracious as well - we would definitely stay there again!

Thank you, Jim & Nathalie for choosing our property for your anniversary celebration. I'm so glad you enjoyed your stay & I look forward to your next visit! Sincerely, Veronica
---

R1133FAalexm
Brooklyn, NY
2

contributions
Hey everyone. We were met by a wonderful host (who just happens to live next door) Veronica who was very helpful and made herself available if we ever needed anything. The house was brand new with a great kitchen. The fire pit on the year round stream was perfect. Can't wait to make it back in the fall

I'm so glad you had a good time! It was great meeting you & your family - especially with the FDNY connection! I look forward to seeing you again on your next visit! Sincerely, Veronica
---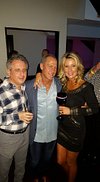 mobil1edison
Edison, NJ
2

contributions
perfect weekend ,snowed in all day went for a snow shoe by the stream, snuggled by the fireplace. No disappointments. See for your self. Definitely coming back in the fall. Thank you to our hosts, place was better than described. Ciao, Eric and Lauren

Thank you Eric & Lauren! So glad you enjoyed our "winter wonderland!" Do come back in the fall & enjoy the beautiful colors as you sit by the outdoor fire pit. Sincerely, Veronica
---

NickMichelle
Yonkers, NY
2

contributions
My girlfriend and I rented the house for the 1st weekend of November. The fall weather was great, and the house was everything we anticipated it would be from the pictures. Newly rennovated and modern, yet cozy inside. Backyard and firepit LITERALLY on the river. Cooked some steaks on the backyard grill. Nice fireplace in the living room as well. Very clean. Walking distance to the town for restaurants, shops, gas station, and more. Wish we had more time there, but we hope to be back in the future!

We are so glad that you were happy with your stay and were able to enjoy the fire pit. We look forward to your next visit. Sincerely, Veronica & Jon
---
Showing results 1-10 of 20
---
Indoor amenities
Air conditioning

Central heating

Fireplace

Internet access

Cable television
Scenic views
Mountain views

Waterfront views
Kitchen and dining
Grill

Dishwasher

Freezer

Refrigerator

Microwave

Cooker

Toaster
Things to do
Fishing spots available

Watersports

Cycling areas
Bathroom and laundry
Dryer

Linens provided

Towels provided

Washer
---
---
Activities nearby
Fishing spots available
Golf course (within 30 mins drive)
Watersports
---
Cancellation policy
100% refund within 24 hours after booking (provided the stay is at least 60 days away).
50% refund* if you cancel at least 4 weeks before check-in
25% refund* if you cancel at least 2 weeks before check-in
No refund available once booking is confirmed
---
---
First, check the Availability tab on this page to see if your dates are available. If they are, contact the owner via the Tripadvisor Rental Inbox to confirm availability.

---

Initially, you may contact the owner via the Tripadvisor Rental Inbox. This inbox is created after you send your first message or booking request to the owner. After you've made your first payment, you'll be able to see the owner's contact information.

---

This owner will contact you via the Tripadvisor Rental Inbox.

---

You can send another message via the Tripadvisor Rental Inbox to ask if the property is still available.

---

For this property, please use a credit card to pay via the Tripadvisor Rental Inbox. Once the owner approves your stay, he or she will send you a quote, which will include payment instructions.

---

Yes. Payments made via the Tripadvisor inbox are covered by our Peace of Mind Protection.

---
---
Do you own a vacation rental? List it here.
Earn extra income
Earn money by renting out your home. With no up-front fees and no contract, you keep more for yourself.
Manage booking easily
Confirm bookings in one click and track everything from enquiry to checkout, even while you're on the go.
Be trusted by travellers
With millions of reviews and protected online payments, Tripadvisor helps travellers book your home with confidence.
---
This property is affiliated with
All bookings are direct with the owner
---
Frequently Asked Questions about Sanctuary by the Stream
---
---

---

---

---